Worried by the steep correction in silver? Don't worry, just reduce your leverage.
Silver has always corrected by roughly a third after its sharp ascents in the past 5 years. This is due to the extreme tightness of this market where a billion of whatever fiat currency still can do a lot of damage. At one point the short sellers will be run over by the very real freight train of exploding physical demand that has led to what looks like a worldwide shortage in bullion.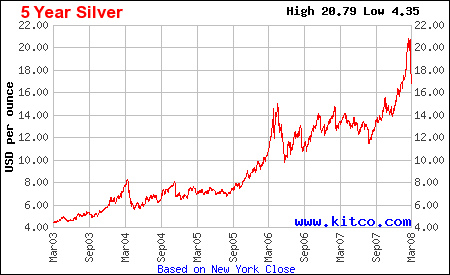 GRAPH
: Silver always corrected by a third in the runups of the past 5 years. I would not rule out a similar development this time before silver will attack the $30 mark on its way to the old high at $50.
Chart courtesy of Kitco.com
The US Mint has been out of the gold sale business for almost half a year now, filling orders on very few days since September. Currently only the new 2008 gold proof Eagles are on offer. All uncirculated bullion coins are not available. Platinum coins have not been available in a while too.
Now the physical delivery problems spread to silver as well. The US Mint says it will ship silver eagles again after April 9. But taking it from past experience, this schedule may be delayed again.
excellent full article here